Tutorial of the month
Published by Suisei at 17/08/2018 à 15h45
Hello, everybody!

Now I have returned from holidays and the pages Tipeee and Patreon are launched, it is time to tell you about the bonus content and how I will manage it.

By bonus content I mean all additional content in addition to the comic Space Wizard McKcarell: HQ scans of monthly illustrations, tutorials, graphic resources and goodies (ex-libris and holocards).

All these bonuses will be delivered at the end of the month, when the contributions have been validated definitively.
The physical rewards will be sent by post to their owners and the digital rewards will be sent by email or made available for download on a password-protected area of my website.

The rest of the month, while waiting for delivery, I will post public news (they will be posted in a little tight time frame this month) to announce the bonus content, which will allow you to know in advance what will be delivered and modify your contribution according to what interests you before its validation.

Well, today, we're going to talk about a first content: the tutorial of the month!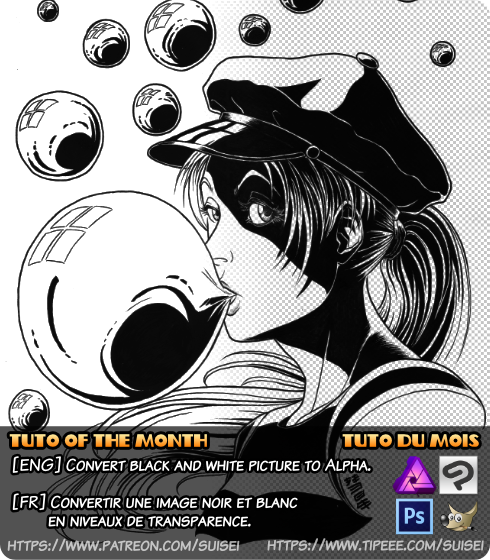 This month, I will explain how to convert a black and white image (a grayscale image) to a transparency level image. Basically, the whiter a pixel is on the original image, the more transparent it will be on the final image. I will explain this for 4 different softwares! Photoshop (CS6), The Gimp, Affinity Photo and Clip Studio Paint!
This tuto will be delivered to all patrons who have taken the reward Backstage or more.

That's all for today. I will quickly reveal the contents of the other bonuses.

Good weekend to you all! =D

Suisei - Killfaeh
Categories : News and chitchat, Art tips and tricks,